April 2019
Now released! Alberto Hemsi Coplas Sefardies Vol. 3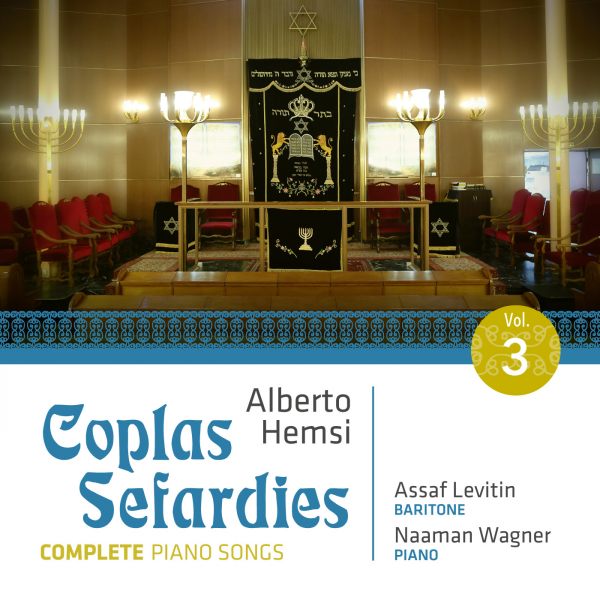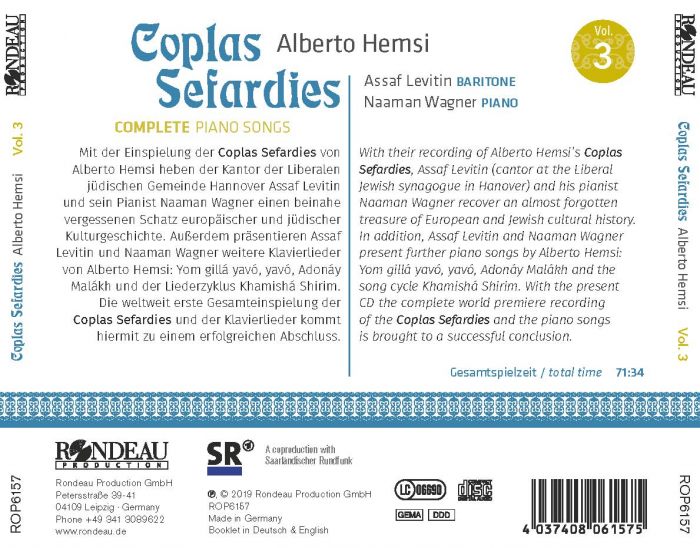 "... תם ונשלם!
בשעה טובה הגיע אליי היום הדיסק השלישי והאחרון, החותם את העיסוק שלי בשלוש השנים האחרונות: הקלטת מכלול יצירותיו של המלחין אלברטו חמזי #alberto_hemsi לקול ולפסנתר.
שותפי הנפלא לדרך, הפסנתרן הכל-יכול נעמן וגנר ואני זכינו להיות הראשונים שהקליטו את כל יצירותיו של המלחין הכמעט נשכח הזה, ובתוכן מחזור שירי הלאדינו שלו #coplas_sefardies
#rondeau_production ..."
Rondeau Production:
'Mit dem vorliegenden dritten Album kommt die weltweit erste Gesamteinspielung der Coplas Sefardies und der Klavierlieder von Alberto Hemsi zum erfolgreichen Abschluss. Der Kantor der Liberalen jüdischen Gemeinde Hannover Assaf Levitin und der Pianist Naaman Wagner haben hiermit einen Schatz europäischer und jüdischer Kulturgeschichte vor dem Vergessen bewahrt und gesichert.
Als die Sephardim um 1500 von der iberischen Halbinsel vertrieben wurden, verstreute sich deren Liedgut im gesamten Mittelmeerraum. Alberto Hemsi sammelte diese, nur mündlich in Ladino, der Sprache der spanischen Juden, überlieferten Gesänge und unterlegte sie mit einer virtuosen und stimmungsvollen Klavierbegleitung. Hemsi war somit ein leidenschaftlicher Bewahrer des musikalischen Erbes und der Folklore der Sephardim.
Im Rahmen der Gesamteinspielung der Klavierlieder Hemsis hält diese Aufnahme die hebräischen Lieder "Yom gillá yavó, yavó", "Adonáy malákh" und den Liederzyklus "Khamishá shirim" bereit.'
19. Dezember 2018
"Klingende Toleranz"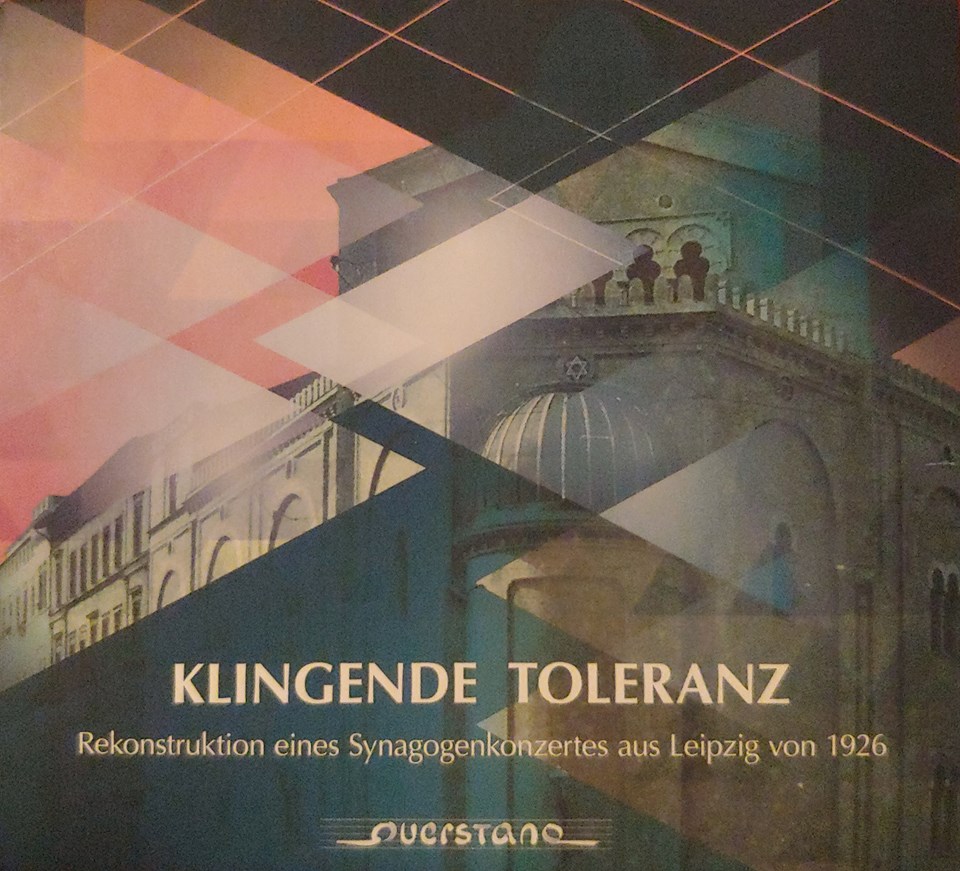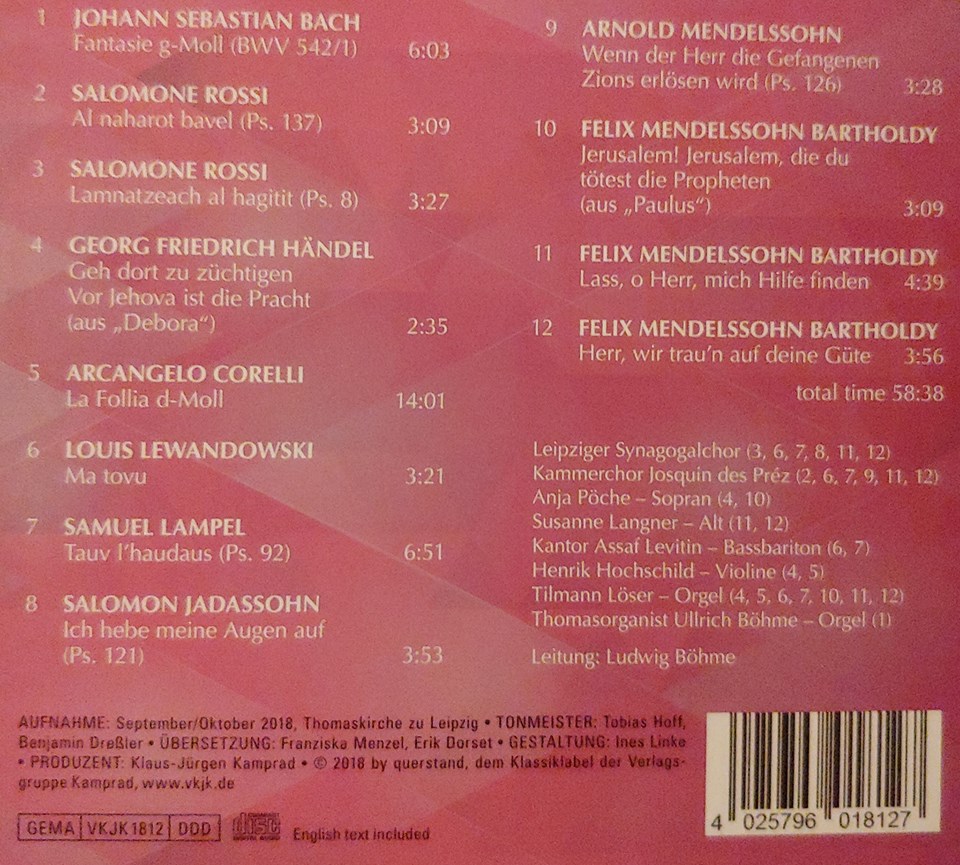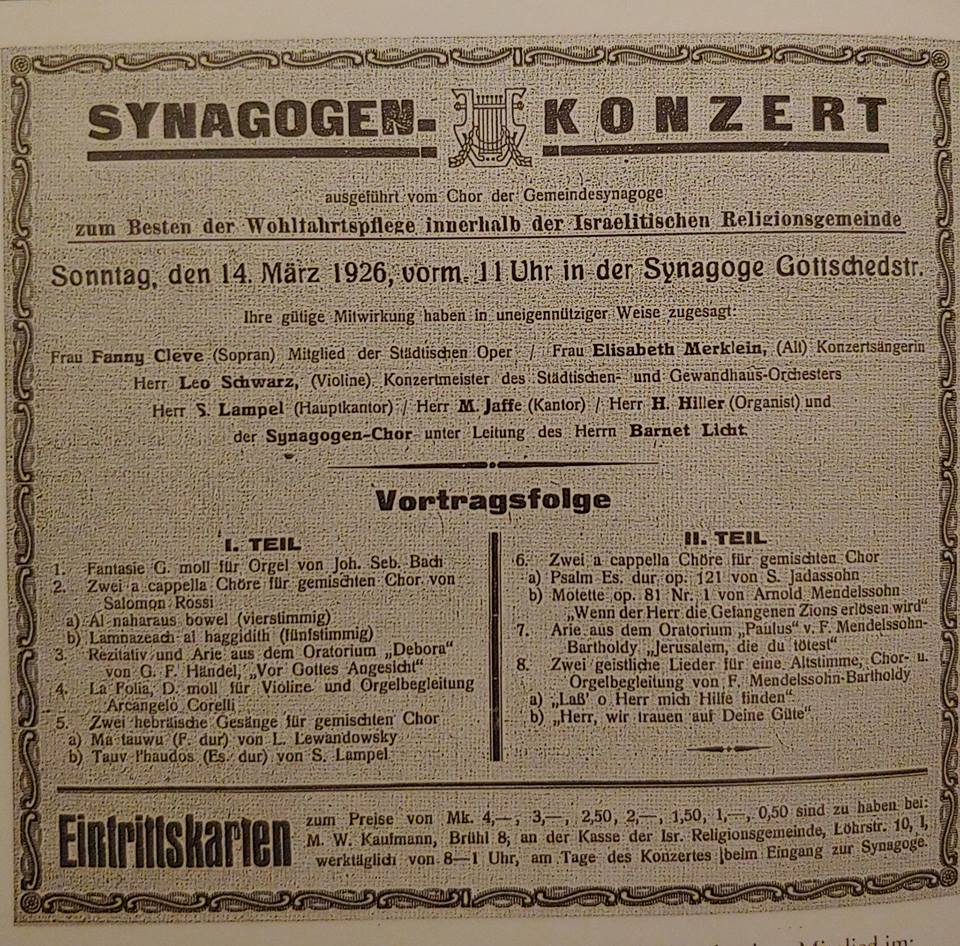 I'm honored to be a part of this project. Just received the new CD "Klingende Toleranz" (Resounding Tolerance), which is a reconstruction of a concert program from the year 1926. Samuel Lampel, who was Cantor of the liberal synagogue in Leipzig, put this program together in order to enable mutual appreciation forboth Christian - and Jewish liturgical music.
I participate in this CD as solo Cantor on two tracks. The first one is one of the best known piece by Louis Lewandowski, "Mah Tovu". The second one features the beautiful work of Samuel Lampel, psalm 92.
(Orders at
https://www.facebook.com/LeipzigerSynagogalchor/photos/a.113814252114805/1210863779076508/?type=3&theater
http://www.synagogalchor-leipzig.de/?fbclid=IwAR01_hFwsOjPvAOKSTAREdNAIRfaqkUWMmPE2gszZ6EGCw6W6yvL36qeivs
18 € plus shipping)
Here are reviews of the CD "Klingende Toleranz"
4.1.2019 Kulturradio rbb
Link zur Sendung


14.03.2019 WDR 3 TonArt
Link zur Sendung
1. November 2018
Close the cover, we're DONE!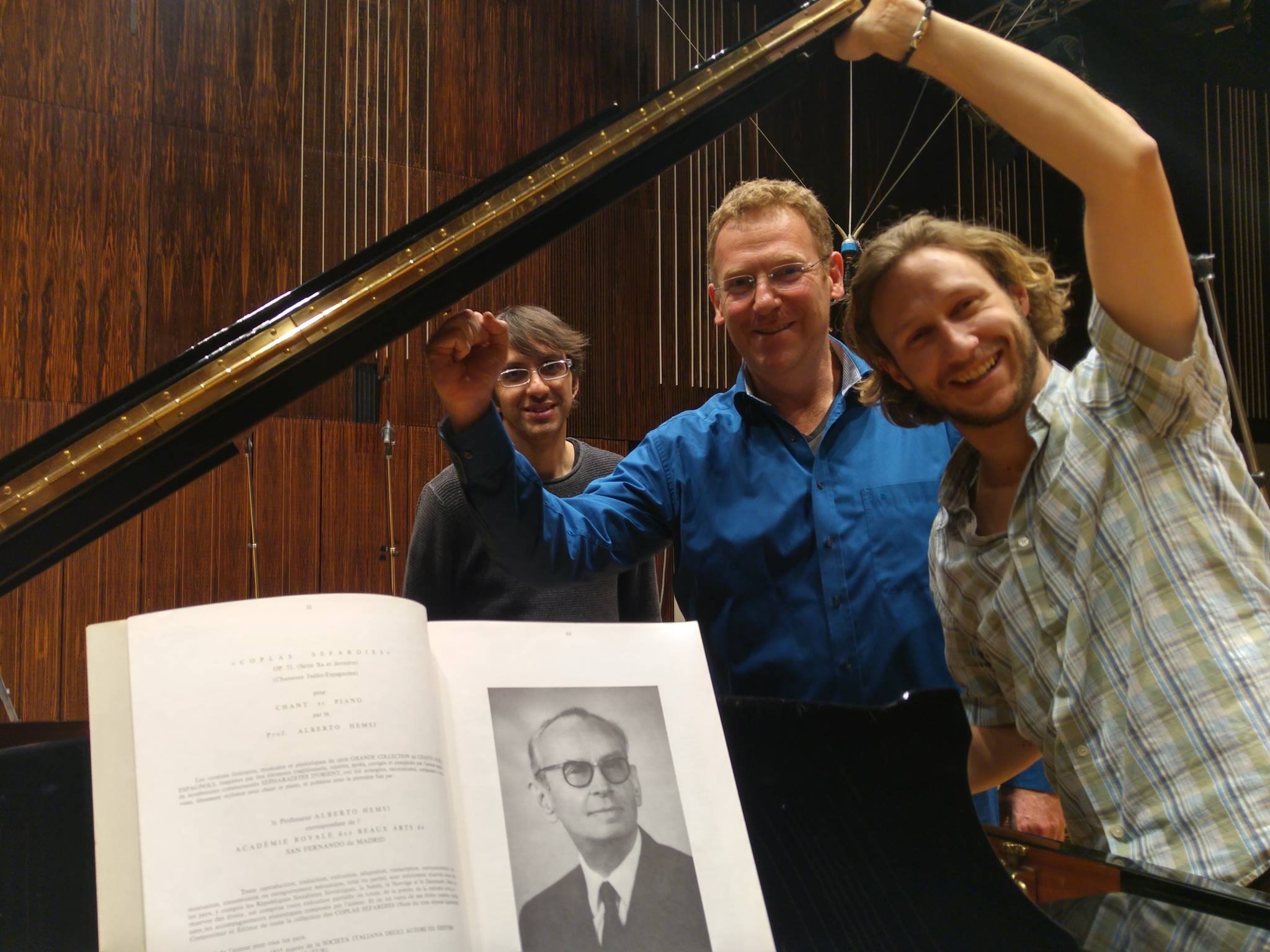 Today, we have completed the first complete recording ever made of Alberto Hemsi 's songs for voice and piano. This includes his complete Ladino collection of 60 songs Coplas Sefardies. As well as never before published works like his Kal Nidrei, Three Biblical Songs, liturgical music andother songs.
On the photo, from the right: Stefan Antonin, our Tonmeister, me, Naaman Wagner and Alberto Hemsi's beautiful photo. @ Saarländischer Rundfunk.

28. September 2018

Now released!
7 months younger than the 1st CD, Coplas Sefardies #2 is now released, and I'm not a bit less proud!
This monumental project, documenting for the first time ever the complete piano-songs by composer Alberto Hemsi (1898-1975), includes not only the 60 Ladino folk-song arrangements, known as "Coplas Sefardies", but also other songs, mostly liturgical, exploring the world of Sephardi Jewish music like you've never heard before.
Together with pianist Naaman Wagner, and blessed with great partners and supporters from the Europäisches Zentrum für Jüdische Musik, the Saarländischer Rundfunk and the Elsbach Stiftung, we could do justice with a truly great composer. It's about time the world knows how great he was.
The photo of CD2 shows the Eliyahu Hannavi Synagogue in Alexandria, where Maestro Hemsi was the musical director between 1930-1957. He founded the first music edition in Egypt, Edition Orientale de Musique, where he published his music.

Coplas Sefardies von Alberto Hemsi - Vol. 2
Assaf Levitin, Bariton
Naaman Wagner, Klavier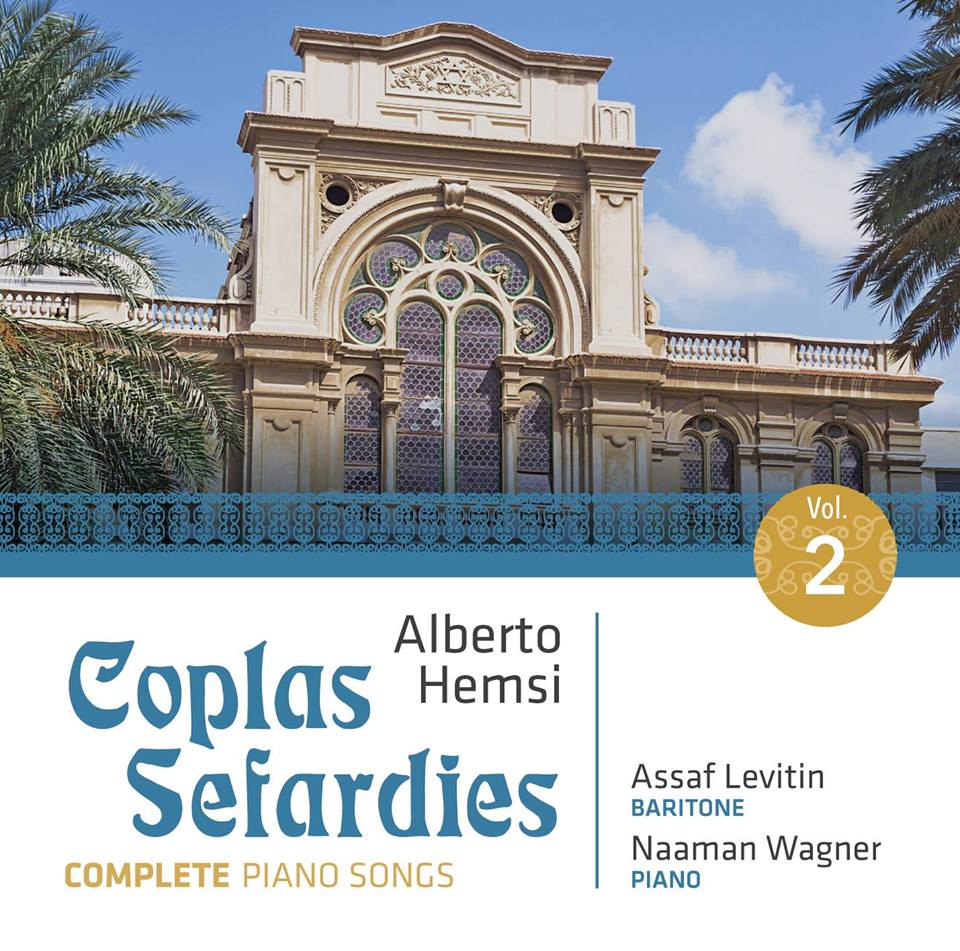 CD-Neuerscheinung
Coplas Sefardies von Alberto Hemsi
"...it is here!"
"Naaman Wagner spielt diese virtuose Musik mit großer Souveränität, Eleganz und Farbenreichtum und bereitet so Assaf Levitins vollem Gesang eine starke Grundlage.

Die außerordentlich verdienstvollen Einspielungen sind eine gute Gelegenheit, hierzulande unbekannte Chansons kennenzulernen".
Agnes Monka, Jüdische Allgemeine Zeitung, 22.02.2018

Eingespielt von:
Assaf Levitin, Bariton
Naaman Wagner, Klavier
In Kooperation mit dem EZJM
Die CD erscheint am 23. Februar 2018 bei Rondeau Production GmbH
Der erste Teil der ersten Gesamtaufnahme der Coplas Sefardies von Alberto Hemsi. Ein wichtiger Beitrag zum Erhalt und zur Pflege jüdisch-sephardischer Musikkultur.
Mit der Einspielung der Coplas Sefardies von Alberto Hemsi heben der Kantor der Liberalen jüdischen Gemeinde Hannover Assaf Levitin und sein Pianist Naaman Wagner rechtzeitig zum 120. Geburtstag des Komponisten im Jahr 2018 einen beinahe vergessenen Schatz europäischer und jüdischer Kulturgeschichte.
Hemsi galt als leidenschaftlicher Bewahrer und Fürsprecher der sephardischen Folklore und deren musikalischer Tradition. Über Jahre hinweg trug er zahlreiche Texte und Melodien dieses bis ca. 1500 ursprünglich in Spanien beheimateten, jüdischen Volkes zusammen, das sich nach seiner Vertreibung von der iberischen Halbinsel insbesondere auf den Mittelmeerraum verstreute. Hemsi sammelte hauptsächlich in den 1920/30er Jahren die monodischen und unbegleiteten Gesänge in Ladino, die bis dahin nur mündlich überliefert worden waren, und unterlegte sie mit einer virtuosen und stimmungsvollen Klavierbegleitung, die anderen Liedern der Zeit in nichts nachstehen.
Assaf Levitin und Naaman Wagner legen mit der ersten von weiteren, geplanten CDs den Grundstein für die erste Gesamteinspielung sämtlicher Coplas Sefardies von Alberto Hemsi. Damit tragen sie wesentlich zum Erhalt der über ein halbes Jahrtausend alten Tradition der jüdisch-sephardischen Kultur im Mittelmeerraum bei.
"It is here! Alberto Hemsi's Coplas Sefardies #1 just arrived with the post (catching my breath. Producing CDs when you live on 3rd floor without elevator... well, it was worth it).
This is the beginning of the very first complete recording of this almost unknown masterpiece, documenting folk-songs in Ladino in finest arrangements.
Together with pianist Naaman Wagner, and in co-operation with the Europäisches Zentrum für Jüdische Musik Rondeau Production, Saarländischer Rundfunk, we are excited to present the complete 4 of 10 song cycles.
More here: https://www.rondeau.de/New-Releases/Alberto-Hemsi-Coplas-Sefardies-Vol-1::420.html?language=en ..."
Assaf Levitin
PRIOR NOTICE! "Coplas Sefardies"
First of three CDs recorded!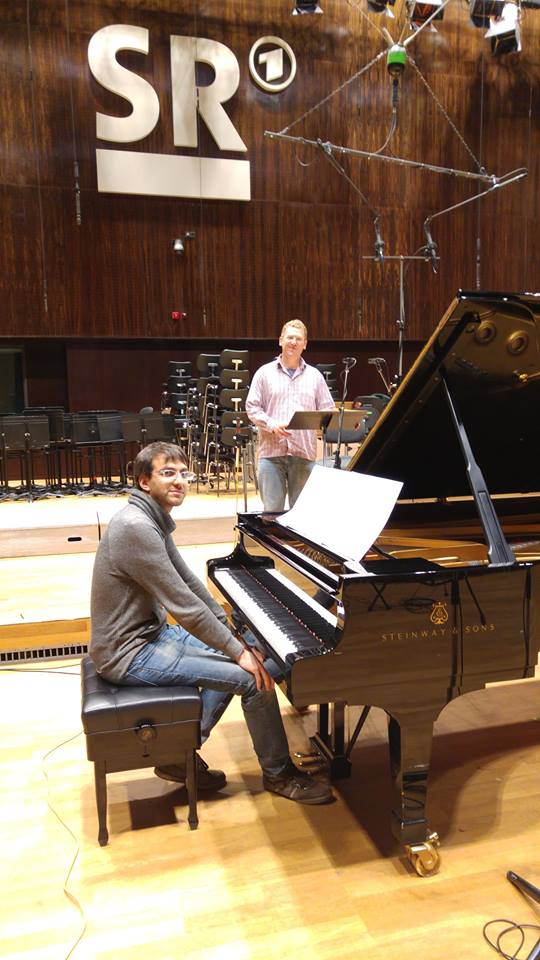 "...25 years ago, I sat in a concert hall in tel Aviv, listening to Mira Zakai and menachem Wiesenberg perform wonderful art-songs in Ladino. I couldn't remember the composer's name.
8 years ago, working with Menachem Wiesenberg, he introduced me to the music of Alberto Hemsi. By now, I could't forget his name anymore. His enchanting arrangements for folksongs of the Ladino tradition (the language spoken by the Sephardi Jews since the big deportation from Spain in 1492) are a rare masterwork, combining the simplicity of folklore with the sophistication of Ravel-like harmonies.
A few years ago, I found all of Alberto Hemsi's vocal music in a library in Paris. I immediately bought copies of everything. This was soon to become the database of my master's thesis about Alberto Hemsi's liturgical music.
4 days ago, I started making a dream come true. Togethter with the incredible Naaman Wagner at the piano, we have just finished recording the first of 3 CDs with the complete set of Ladino song-cycles called "Coplas Sefardies".
In co-operation with the European Institute of Jewish Music in Hannover, the Saarländischer Rundfunk radio station, the CD label Rondeu and with the generous support of the Elsbach Stiftung, the collection will appear in the year 2018, which would have been Alberto Hemsi's 120th aniversary. In Jewish tradition, 120 years symbolize a fully lived life. ..." October 12, 2017

Die Drei Kantoren
Mit Ido Ben-Gal (Tenor), Amnon Seelig (Bariton), Assaf Levitin (Bass), Naaman Wagner (Klavier)
Mit Ido Ben-Gal (Tenor), Amnon Seelig (Bariton), Assaf Levitin (Bass), Naaman Wagner (Klavier).
Special guests: Eliyahu Schleifer, Tehila Nini-Goldstein, Alexey Kochetkov, Christian Varas, Peter Kuhnsch
Franz Schubert
Immortal Bach Ensemble, Leipziger Kammerorchester, Morten Schuldt-Jensen
Arnold Schönberg
Arnold Schoenberg's Ode to Napoleon op. 41
With Ensemble "Voix Etouffées". amaury de Closel, conductor
Theo Brandmüller
Löwe, leih mir deine Stimme
Luzifermonodram für Bariton, Akkordeon, Sopransaxophon, Altsaxophon, drei Violoncelli, Synthesizer und Schlagzeug (1999/2000)
http://perc-pro.com

Puccini: Messa di Gloria
Jerusalem Symphony Orchestra
Oratorio Chorus Jerusalem
Yuval Ben-Ozer, Dirigent
Live-Mitschnitt, Jerusalem, 97


Musik für das Leben nach Tschernobyl

J.S. Bach: Kantate BWV 131 "Aus der Tiefe"
Messe in G, BWV 236

Live-Mitschnitt aus Gedenkkonzert, 26.4.2001
Gethsemane Kirche, Berlin.
Kammerorchester der Minsker Philharmonie
Cantus Domus Chor Berlin
Dirigent: Ralf Sochaczewsky